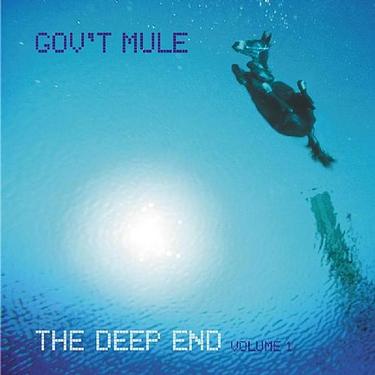 I've missed doing this column for more than a month, and so like before I'll do some make up posts on some more of my favorite albums and artists.
This is an album that accidently got onto my radar screen back in 2001, after the death of their bassist Allen Woody. My friends that were Allman Brothers fans told me about this band, and I had seen and heard both drummer Matt Abts and guitarist Warren Haynes with other artists, so I knew they'd be a great band.
The Deep End was a tribute to Allen Woody, with guest appearances by numerous stellar bassists. There is a volume II, but I don't like it as much as I do Volume I.
My favorite song is On the Banks of The Deep End, with Mike Gordon on bass. That's a rocking tune. When you're in the mood for a foundation of southern rock with a great variety of bass players that really compliment the arrangements, this album is the ticket. The first four songs out of the gate are all strong as hell, and the rest of the album is very good, especially the covers. I actually like all of the songs, but those first four come busting out of the gate.
Here's the wiki page about the album, and below that is a list from wiki showing the songs and the guest bassists and the other steller musicians who lent a hand in this project.
http://en.wikipedia.org/wiki/The_Deep_End,_Volume_1
Track listing
The Deep End, Volume 1
"Fool's Moon" (Haynes) - 5:50
"Life on the Outside" (Haynes/Freed) - 3:45
"Banks of the Deep End" (Haynes/Gordon/Linitz) - 5:55
"Down And Out In NYC" (Chandler/DeVorzon) - 6:12
"
Effigy
" (
Fogerty
) - 9:06
"
Maybe I'm a Leo
" (
Blackmore/Gillan/Glover/Lord/Paice
) - 6:06
"Same Price" (Haynes) - 3:34
"Soulshine" (Haynes) - 7:43
"Sco-Mule" (Haynes) - 6:08
"Worried Down With The Blues" (Haynes/Woody/Jaworowicz) - 8:40
"Beautifully Broken" (Haynes/Louis) - 6:01
"Tear Me Down" (Haynes) - 6:10
"
Sin's A Good Man's Brother
" (
Farner
) - 4:11
Hidden Treasures
"Blind Man in the Dark" (Haynes) - 7:06
"Fallen Down" (Haynes) - 13:31
"
Jesus Just Left Chicago
" (
Beard/Gibbons/Hill
) - 10:02
"Soulshine" (Haynes) - 4:57

Personnel
Gov't Mule

Warren Haynes
- vocals,
guitar
, production

Matt Abts
-
drums
Bass Players
Jack Bruce
Oteil Burbridge
Bootsy Collins
John Entwistle
Flea
Roger Glover
Mike Gordon
Larry Graham
Stefan Lessard
Dave Schools
Mike Watt
Willie Weeks
Chris Wood
Additional Personnel
Michael Barbiero
- production

Gregg Allman
- vocals,
keyboards
Randall Bramblett
- keyboards

Jerry Cantrell
- vocals

Audley Freed
- guitar

Eddie Harsch
- keyboards

Little Milton
- guitar, vocals

Danny Louis
- keyboards

Page McConnell
- keyboards

John Scofield
- guitar

Derek Trucks
- guitar

Dan Weinstein
- trombone

Bernie Worrell
- keyboards

Mike Uhler
- trumpet