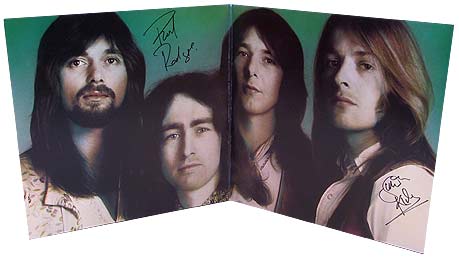 Released in 1974, I remember buying at the local Stop and Go, back when they sold a few records as well in Houston. It was one of those albums where, in my opinion, every song was good. I enjoyed playing drums along with it, using headphones and copping Simon Kirke's laidback yet powerful rock drumming style.

The entire band was great. The late Boz Burrell, a relatively recent convert to the bass guitar before joining Bad Company, often played a vintage fretless 60's f-hole Ampeg bass with a scroll headstock, similar to those headstocks sported by upright basses. I knew of Paul Rodgers and Kirke from their seminal work with FREE, and Mick Ralphs had been on everyone's radar screens since his work with Mott the Hoople.

Like many other British artists before and after them, they recorded this album at
Headley Grange
with
Ronnie Lane's Mobile Studio
in November 1973. Released on Led Zeppelin's newly created Swan Song label, here's what wiki says about it:

"The album peaked at #1 on the
Billboard
's Pop Albums chart (
North America
). Since then the album has sold in excess of five million copies according to the
RIAA
.
[1]

The singles "Can't Get Enough" (which was to feature in an advertisement for Levi's jeans in 1999) and "Movin' On" peaked at #5 and #19 respectively. "Rock Steady", "Bad Company" and "Ready for Love" (the latter originally recorded by BadCo guitarist
Mick Ralphs
during his tenure with
Mott the Hoople
) are also "classic rock" radio staples."

The second and third albums by Bad Company also bear mention as great albums, but as with many acts, the first album is the greatest. And so it is with this one. BadCo. Highly recommended.