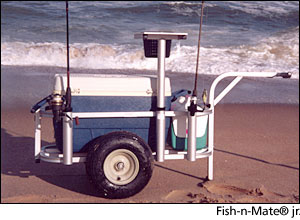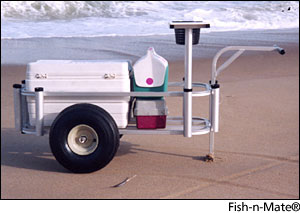 The two hand carts shown above sort of illustrate a smaller idea of what I would like to have for use surf fishing on Texas beaches. As I wrote about in previous posts about having a trailer that could be towed behind a 4x4 to provide not only a place to carry gear but a platform to render forth some shade from the unrelenting sun and to anchor one's rods. I'll certainly admit some of my ideas border on the grandiose but while in North Carolina this past weekend, I bought a great fishing magazine called the North Carolina Sportsman that had some great ideas on various types of fishing carts that I think translate well to a smaller trailer.
My thoughts are that a shorter trailer, not much larger than the hand carts shown above, would fit my needs and perhaps be a first step to a larger project at a later time. Billy Ray is on board with this as well. A shorter trailer with enough room for all the beach gear you would need, and with mounts to mount some sort to top to provide some shield and shade from the sun so that you could place your chairs under the shaded portion (which would be near the front, or tongue of the trailer) and where you could watch your rods as they would be mounted to rod holders around the rear of the trailer.
Hardcore surf fisherman mount their rod holders directly to the vehicle, but unless I relocate sometime soon to a locale not far from the beach, I can't see burdoning the family truckster with such things for occasional use.
Of course, something trailerable would have to be heavier duty than the carts shown above, but you get the idea from the pictures as far as the rod holders and how the trailer could be positioned next to the high tide mark on the beach for fishing.
To provide the shade, I'm thinking some kind of removeable touneau cover that was as long as the interior of the trailer, and which would be fitted to aluminum or metal poles welded to the trailer that provided enough room for several large comfy folding chairs would be the ticket. If the sections or panels of fabric shade material, with a UV protection rating, could be quickly affixed to a pre-existing frame once arriving at the beach, it would appear as if the trailer had "wings" above it for the front half, providing shade and such. Mosquito netting, if needed, could be draped from the removeable shade panels to provide protection from bugs if needed, and tarp material could also be affixed to the sides and staked into the sand to provide extra shade or the proper angle of sun protection depending on the trailer's position and the positioning of the sun.
Offshore power boats often feature these covers over the center console, made of fabric and sewn to a square or rectangular frame to provide some shade over the operating portion of the boat. Removeable panels would make trailering the rig much easier and less wind resistant, and if they could be attached to a pre-existing frame then set up time would take just a few minutes. If the trailer is longer than it is wide, once at the beach the attached "roof" would extend out past the sides of the trailer, and several panels could provide a nice large shady area to park your chairs and get relief from the sun.
You could even have side panels made out of the same wind tolerant and sun blocking fabric, attached to steel or heavy aluminum frames, that could be attached to the permanent frame and provide nice shade on all sides. Anyone who has used a "sun shelter" at the beach, one of the backyard canopies that is sold at sporting goods stores knows that they often provide notoriously little shade, but by having some side panels that could be easily attached or taken off would facilitate not only sun blocking but could be easily removeable to facilitate air flow from the wind through the shaded area.
You would want big tires on it, but when you got to your spot on the beach you could park the trailer close to the water, allowing you to part your vehicle a safer distance back from the surf line and any surprise high tides. If you have ever seen a vehicle get trapped even partially at the surf line, you know how sad it is to see a vehicle half or more buried in sand.
I'm going to work on some diagrams of what I'm talking about in terms of a more modest surf fishing trailer. One of the small charcoal grills like sailboats use, that hang over the side of the boat and are mounted on the side of the boat, would be great for having ready to attach to this trailer. A small generator or a bank of batteries could provide power for mounting some fishing spotlights to the trailer, affixed to removeable pole to get the lights up high enough to not only provide some area lighting but to light up the sea and attract fish at night. And the batteries could power your bait aerators and radios and the like.
Throw a couple of cool marine outdoor speakers on the rig and a stereo or satellite radio and amp and you could have tunes, shade, lights and make a real nice fishing camp. A cheap port-a-potty and some sort of aluminum/pvc frame with tarpelin mounted to it could provide a place for folks to heed nature's calls for extended camping. As mentioned before, a small water tank mounted up sort of high near the front of the trailer could provide water needs for cooking, showering and cleaning gear with gravity driven water pressure.
One of the big uses is that you could move your fishing camp fairly quickly with such a setup. Whether fishing at Port A, or Mustang Island, or Matagorda, or PINS or South Padre Island or Boliver Island, all you would have to do is hook up the trailer to your vehicle and move to a new locale. Then cast out the rods and take a seat and wait for some action. You wouldn't have to pack up your gear and pull up sand spikes and load the grill and ice chests and bait containers, because it's all spread out in the trailer and ready to follow the birds at a moments notice.
There are lots of land cuts and some jettys where vehicles can pull up right at your fishing spot, such as a large part of the Port A fishing jetties. I like the solitude of heading WAY OUT on PINS or Matagorda or any number of the above-mentioned fishing areas. Places like the Anahuac refuge have great fishing but since it is more or less a brackish tidal backwater area, it tends to have lots of mosquitos. Having a shelter attached to the trailer with mosquito netting protecting the seating area would be great for waiting for those early morning runs when specks or reds are chasing schools of shrimp or baitfish through some of those canals when the tide is moving.
I'm not knowledgeable at all about CAD but I'm fixing to find a program to get a rough sketch of something Billy Ray, Shrimper Dan and I could use right now to pull behind Shrimper Dan's already beach equipped Trooper.
Of course, there are other items that having a small trailer makes easy to carry that can make a fishing camp more enjoyable. A chain saw for cutting driftwood, is great to have, as well as assorted ropes, straps, chains, shovels, winch anchors and boards for getting unstuck when the inevitable happens and you get stuck in a remote area.