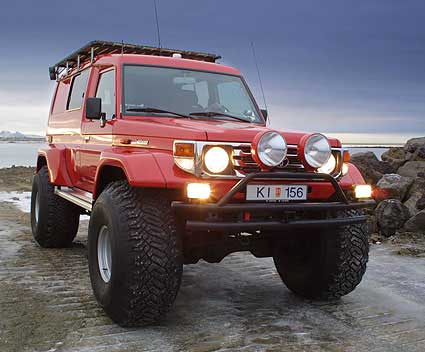 In doing more research about where these trucks are for sale, they are apparently for sale in most places in the world EXCEPT the good ole' USA. See the picture above of the AMERICAN CAR CITY dealership, located in France, and as evidenced by this plentiful stock of this Landcruiser truck just awaiting purchase by just about everyone in the world BUT ME.
Note that many of the sites that talk about the 2010 hzj79 Landcruiser Truck limit them to "Tropical Export", meaning developing and thirdworld countries, meaning little or no automobile regulations regarding safety and emissions.
More interesting is that Toyota still builds the venerable FJ60, the LandCruiser from about 1982 to 1990. A great body style, a serious drive train and six cylinder workhorse torqe filled engine that will last 250-300k miles with proper care. It apparently is for sale in the EU.
I also threw in the top picture of a nice beach truck (actually set up for artic running) made from a FJ80 series cruiser. One of these would also make a great outdoors 4x4, and they are a hardy vehicle, although heavier than their FJ60 predecessor. But 1990's examples in good condition can be found for decent prices.
The Orange Landcruiser truck is outfitted with a two person sleeper/camper configuration and is what I think is good inspiration for a bay fishing or surf fishing truck that can get through the serious sand and muck (and more importantly, back again) with some sort of self contained shelter for an enjoyable sleep.
In the marshy beachland of Texas, ironically the best fishing months of the year for most sporting and eating species is the hot months of the year. Muggy. Mosquito weather. If you've never camped at the beach, or stayed in a beach house in the dunes near the beach, you know that heavy beach winds are no deterrent at all to the local mosquitos.
So for me, having a nice, airconditioned abode where one can escape the sun occasionally and get a nice relatively bug free sleep is what Billy Ray and I are aiming at. It makes me much more likely to spend more than one night in a sand covered tent, even if the fishing is great.
So a vehicle with a compact and seemingly fairly light weight camping enclosure on this very serious 4wd truck that can handle the extra weight in beach, hill country and swampy terrain is a very attractive thing.
Bummer for the Americans, unless you are the folks at America Car City.