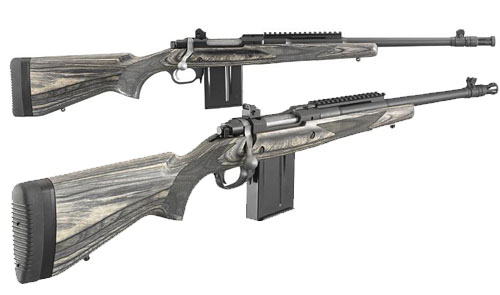 (Image from and used with gratitude to
http://www.downrange.tv/blog/wp-content/uploads/2010/12/ruger-scout-rifle.jpg
)
As I reached for the gun in the hand's of another customer who was holding a heretofore unseen by me Ruger Gunsite Scout M77 rifle, I could see a bit of a look in his eye that he didn't want to hand the gun to me, he didn't want to give it up. I took it, anyway, as he meekly offerred it. He grabbed at it when I handed it back to him a few minutes later. It's a powerful feeling rifle.
The Gunsite Scout exudes quality and workmanship far in excess of the $850 price I saw today. That's a decent discount off the MSRP, but not what I'd want to pay. You see, a hunting rifle like this is going to be hard to justify to the Bride. We've already gotten guns to shoot with El Fisho Jr. and we already have self-defense guns, and I'm pretty sure the Bride, as lovely and generous as she is, feels that we need no more guns, unless we are selling guns to buy more guns. Which is something that should only happen when a gun is a dud or a bad design/purchase and needs to be excised from a man's reliable gun collection.
In fact, the Bride has explicitly stated on at least one prior occasion that no more guns are needed in the household. None. Zero.
And the sad reality of it is, we don't have that many guns. Certainly not the number of guns that any of my friends or work friends would consider adequate. I'm extremely lacking in several shotgun catagories, among them a good skeet gun and an autoloading shotgun. I'd like to have a turkey gun as well, in digital camo please, with a pistol grip and a red dot sight.
And I need a gun like the Ruger M77 Gunsite Scout.
You can read an excellent review of this gun at http://www.downrange.tv/blog/ruger-introduces-new-platform-in-ruger-gunsite-scout-rifle/7914/ and his post ends with the excellent verbage which I must repeat here in bold:
As they say, beware the man with one gun, for he probably knows how to use it. Never has this been more true than with the Ruger Gunsite Scout Rifle, the one rifle to have if you could only have one. It is the perfect lightweight, hard-hitting, do-it-all bolt-action rifle – where rugged, reliable Ruger meets the practical, tactical.
But I digress. So on the "short list" of guns I'd like to have, and realistically, priced at a price that with some saving and doing I could actually afford in several months when you include a quality scope for the weapon.
The gun is light. I has an interesting shape and feeling stock yet it was instantly comfortable in shooting position. The gun is well constructed and the short barrel lends itself to quick movement in short spaces. The detachable 10 round magazine is nothing short of sheer brilliance that many other gun makers should be emulating, and I'd compare it to the flip down magazine lip on the Beretta PX4 Storm Subcompact that flips down to give the little finger a perch. Very hip ideas.
The stock and finish appeared very durable, and workmanship was smooth and good fitting. I dry fired it several times, and the trigger was nice, very nice. I wouldn't need any custom work done on this gun as it's nicer than nearly any rifle I've owned or shot.
It balances well, and it feels like it weighs less than it's stated 7 pounds. The rail is close enough that a more traditional sight could be mounted, as opposed to the more forword Scout type mounts I've seen on other guns.
When you consider the Steyr Scout gun was retailing for more than 3 times what this gun goes for, although the Steyr is cool and I'd love to have one, I'll take the American made Ruger instead.
In reading some reviews about this rifle around the web, I came across some forum postings talking about what gun would you want if you could have only one rifle, in one of those "Suishi hits the fan" scenarios, what would it be. Apparently, this one survey picked the Ruger Mini-14, and then after the introduction of the Gunsite Scout, many wanted to change their vote.
This is an exciting gun that would be very fun to shoot. Now I've got to find someone I know who owns one who will let me shoot it.