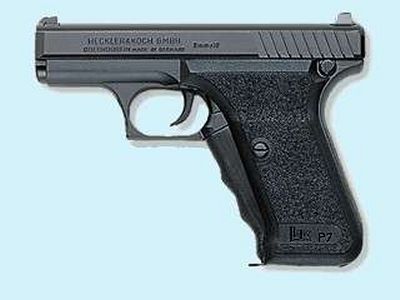 One of my favorite pistols in the world is the Heckler and Koch P7M8, the squeeze-cocker 9mm that is a mighty fine shooting pistol. I always felt very safe carrying a P7, as we called them in the early 80's. It was a bit heavy for my liking, but a check on the weight shows they only weigh 25 oz, which in the pistol world qualified back then as light weight for a 9mm auto.
This fine gun is out of production. But I want to urge H&K to redesign some of the materials used in the weapon and get that weight lowered and start making this bad boy again. With some of the alloys in use in today's modern lightweight pistols, I am sure that your fine company could get the weight down under 20 oz. unloaded.
Your company makes some fine pistols. But I think you should do some materials redesign and make this pistol the shooting machine for concealed carry that it could be. A frame made of a composite material a'la Glock would also be very cool. Whatever.
It's just a shame that one of the finest pistols ever made is no longer in production. Yeah, they're readily available used for $1k and more right now, but really, reconsider making the P7M8 again. It's a helluva pistol, and I really think you owe it to the shooting public and the group of fans of this weapon.