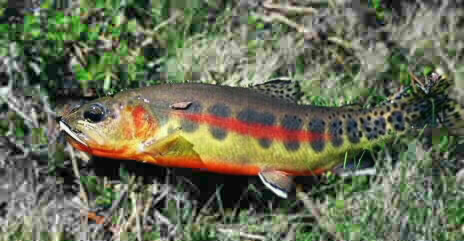 I've been thinking about a trip to the Golden State quite a lot lately. I've got business in L.A. I need to take care of, and a slight detour up the Eastern side of the Sierras yields virtually endless fishing opportunities for trout, particularly The Golden Trout.
More likely I'd catch a hybrid Golden, but no matter. Or even if I catch a rainbow or other variety, that would be fine too. Goldens are generally tiny that I've seen caught, but there are some big fish out there.
I'm thinking I could hit LA about 8 A.M., get the rent car, have my business taken care in a couple of hours and hit the freeways heading north and east. The main place I rent cars in LA does rent Wranglers for a reasonable price, and it can be dropped off in Reno or Lake Tahoe or where ever the nearest airport is I could fly out of after the fishing trip.
There's tons of places, both accessible and remote, for fishing in the Eastern Sierras. There are several creeks near small towns that I've been wanting to fish, and the motels in the area are reasonable.
There are public access land with 4wd only roads leading to creeks and lakes that are, I am told, relatively uncrowded and many are stocked with fish every summer by the State. The roads are not bad but 4wd can be needed for some difficult spots, but it's novice level four wheeling to get to the places I want to go.
You have to hike into the high mountain lakes, the ones I'd like to fish, but I don't have near enough time for this trip for the extra days required for hiking to get to the interesting lakes in the Golden Trout Wilderness. But I have that down as a soon soon future trip to take with El Fisho Jr and maybe Billy Ray.
This trip might be solo, and I
'd take the following gear:
1. my normal Orvis Frequent Flyer 6 wt rod
2. fly reel with interchangeable spool
3. Fenwick travel spinning rod ultralight
4. Shakespeare 2052 spinning reel.
5. Zebco medium light action spincasting travel rod
6. Abu-Matic 170 spincasting reel
I could do a lot of different kinds of fishing with that small amount of gear, and a;; of it would easily fit in my current rucksack/backpack with tons of room to spare for other items. All of the other fishing tackle stuff plus other gear, lunch and water can fit in my bag for short hikes to some nice, tranquil meadow streams I've been wanting to fish for decades.
I could likely eliminate the spincasting stuff, but I think it would be useful to get some casting distance on the 4wd driveable high mountain lakes where fish might be congregating in the deeper parts of the lake. Also, if there are any situations where natural bait fishing are allowed, the spincast rig is perfect for that.
A
shoulder bag with fly boxes and a box of spinning/spincasting lures, some composite needle nose pliers, a red plastic hook remover and a few other items. The shoulder bag can easily clip onto the rear of my rucksack via d-rings, straps and small caribiners. I'd carry pretty much my entire fly array, save the saltwater flies, including streamers. The extra fly reel spool would contain a sinking tip line in case the fish were deep down.
A small first aid kit, snake bit kit sans razor blade (carry on, remember), flashlight and extra batteries, handheld backcountry GPS unit and batteries, MAPS AND COMPASS and an SOS inflatable life vest with manual inflate option (sans the CO2 cartridge which I believe won't get through carry on).
As per usual when fishing in California with carry on luggage restrictions, I'm going to buy a lighter in case a fire needs starting and a knife for fishing and protection. With so many gas stations and convenience stores selling cheap knives that have decent sharp blades if bait needs cutting, and the last knife I bought on a trip was a fixed 4" blade sharp as any expensive knife I've owned that was branded as a JEEP mini survival knife, a great nice rubberized handle and it cost $3.95.
I carry a medium sized bubble envelope with me with some dollar and regular stamps and mail it home after the fishing trip since carry on keeps it from coming with me. I can always get a hotel or motel to weigh it on their postal scale or just over estimate and mail it home. Any knives or the like that I might buy on a trip but that carry on prohibits but the US Mail allows can get mailed.
You've got to have a knife when fishing, and on other occasions I stopped a dollar store and got a ginsu cutting knife going for .99 cents. I fished at the Malibu and Santa Monica piers, and left the knife as a gift with a nice elderly couple who was fishing for food and were giving me tips on rigging and fishing for halibut, which were biting at the time.
I usually take with me an empty Tandy Leather Company knife shealth I built from a kit years ago. It fits an amazing variety of knives, even though I wet molded it to fit a certain type of lockblade folding tanto knife that I wanted to use as a belt knife on fishing trips, carrying it in the open locked position, and didn't have a shealth for it.
Likewise, I like having pliers when fishing, and my "mystery of origin or manufacture" composite pliers of which I can seemingly find no mention on the internets are a great carry on companion for fishing. With those extremely lightweight pliers, which float due to rubber on the handles, fish can be grasped gently by the jaw and the traditional red plastic hook remover gets the hook out so the fish can be gently released. I find with careful use of these pliers, I don't get my hand on the exterior of the fish, thus not messing with the delicate viscious type slime covering and scales protecting the skin of the fish from disease.
I'll mention at this point that one friend of mine who went High Country Golden Trout fishing in the Golden Trout Wilderness himself, taking days to hike into the high and hard to reach lakes and streams that are stocked via water-dropping fire fighting type planes. Some of these pristine hard to reach areas still contain native puer Goldens, untouched by the DNA of Rainbows or other trout. Most of the pictures of these tiny Goldens show fishing caught on 2 to 4 weight fly rods or 2 to 4 pound test spinning line. Tiny reels and lures and flies.
But I'll be fishing in the lower altitudes, not up in the high mountain Sierra wilderness. Hopefully, and there's a good chance before August is over, I could be dipping a line in some Eastern Sierra waters.