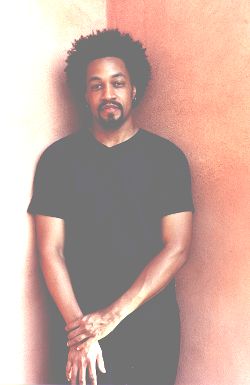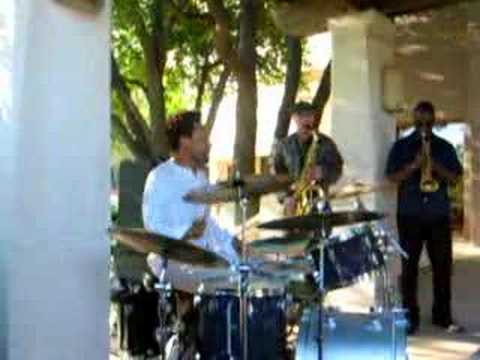 Brannon Temple is, I think, still an Austin drummer. He's been doing lots of big gigs the past decade, and is an in demand drummer. I used to watch Brannon play with a wide variety of bands around Austin some years ago. Met the man in passing, a nice sort, but don't know him at all. But I sure do enjoy watching him play those drums. He's a great drummer and there's a Robben Ford concert DVD from Paris where Brannon is just out of control.
Actually, the entire band in that concert rocks out seriously, including Robben. Great tunes. Great playing and just beautiful guitar based music. It's called ROBBEN FORD: NEW MORNING (THE PARIS CONCERT). It's a great crowd and I don't care whether you play the guitar, the keys, the bass or the drums, you can cop some serious licks from these cats watching this DVD a few times.
Myself, I simply don't get tired of Brannon's drumming, and more than half of the songs in the show are really some of my favorite tunes now. I've grown to be a fan of Robben Ford, at least the more bluesy, jazzy Robben Ford. Bassist Jimmy Earl is a maniac and at one point in a heavy rhythm with the drums and organ he looks like he might stroke out. Just rocking out to the max and laying down a serious rhythm. You'll know it when you see it. It's a few songs into the DVD, but he gets over near the keyboards and lays a foundation strong enough to drive a HumVee on.
Brannon has played with all kinds of groups as sideman, band member and band leader. The last time I saw him at the Elephant he was doing this sort of new agey jazz stuff, certainly entertaining stuff but nothing making me want to shake, rattle and roll my old bones to the beat and go "Hey Whew!" (hat tip to EJ).
In line with my previous post about Frosty and his be-bop sized Austin Jasper Fibes, Brannon is playing a set himself in the New Morning DVD. I think they are silver glass, or cut glass, or silver sparkle. He rocks the heck outta that kit, and I have not seen anyone play really hotrod drumming blues like he does since Steve Jordan with the Blues Brothers band in the studio.
Anyway, I don't know what kind or brand or setup of drums Brannon is rocking these days (now that Fibes has not made any drums in several years, so I hear), but I know those Fibes rock the hell out of Robben Ford's tunes and the New Morning DVD.
Brannon is one of numerous exceptional drummers that hail from or live in or lived in Austin over the past few decades. I'll be writing about some of them soon. The late Mambo John. Barry "Frosty" Smith. Uncle John Turner. Several female drummers and a cadre of other drummers I've really liked over the years in bands both short lived and long lived in Houston and Austin.
The best sounding Fibes Be-Bop kit I've ever heard was a rental I used once from Tommy's Drum Shop.
The second best Fibes Be-Bop kit I heard was played by a mid-thirties blonde female, backing some sort of folk/rock/blues singer three or four years ago. I stopped in Ruta Maya on the way to a gig, and heard the band playing. Her drums were unmic'd save for the bass drum, and it sounded just ri-ot. She must have been a great drum tuner but those drums were singing quite well in that venue.
Which brings me back to Brannon Temple and his silver Fibes in the New Morning DVD. You've got to check out this drumming, if you're into great groove drummers WITH MONDO CHOPS at all.