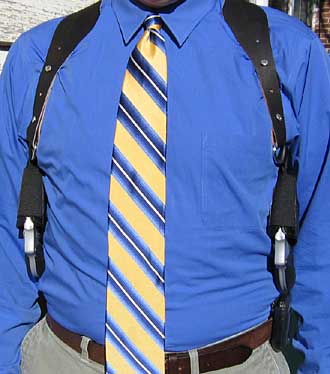 Although I have no interest in carrying double snubnose revolvers, you get the idea of how the holster idea works from this picture.
This is the K.L. Null Holster Model SKR City Slicker. Instead of leather, the holster is constructed of form fitting dense but very thin polymer material. As said on Null's website, "Total weight of the Holster, Tri-Span Harness and loaded Airweight J-Frame revolver: 19 oz.!"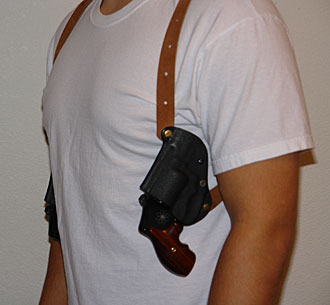 image courtesy of DL Sports, Inc. Check out their website!
http://www.dlsports.com/holster_dual_j_frame_revolver_shoulder.html
The iconic Steve McQueen in his Bullit role emulating San Francisco Detective Dave Toshi and his Colt carried in an upside down holster. Many TV shows in the 60's and 70's featured police characters using this type of holster. Kojak was one. Oddly enough, I can't remember any of the bad guys ever using this holster.
A lot of folks don't like the upside down snubnose shoulder holster rig but I do. Under a jacket or coat, it's very concealable. I own one each of the Bianchi and Safariland models from back in the day. I plan to buy an SKR soon and am going to do some searching on who makes leather versions of his holster nowadays, since Bianchi and Safariland discontinued this design some time ago.
I'll report back on what I find. The prices for these holsters on ebay are insane. Last year they were going for like $50 and now it's over double that in many cases.