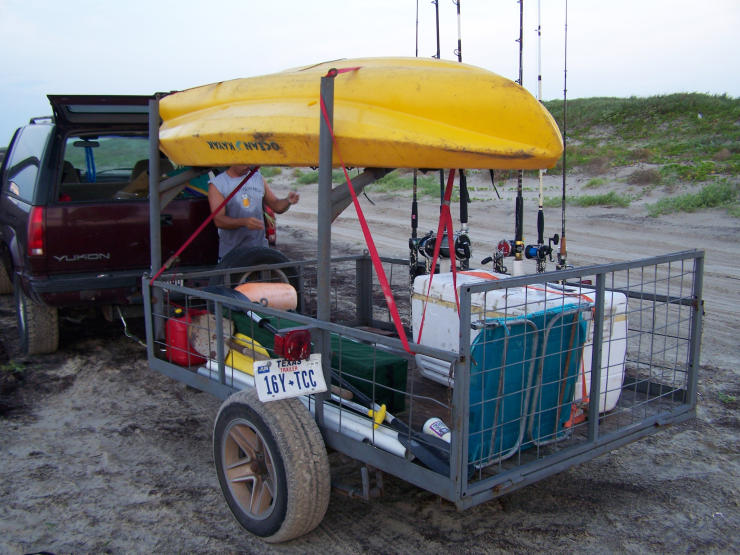 the upper picture is from:
and the lower picture is from
The above pictures are a starting point on what I hope to describe for you. What I have in mind is much, much bigger than the trailer on the bottom, but would have big tires and a high frame like the offroad kayak trailer shown in the top photo.
I got to tell a story. If there is one thing El Fisho likes to do, it's tell a story. Years ago, decades ago, almost 30 years ago, me and my then best bud THE MOG (or simply MOG) would travel to Corpus Christi quite regularly. We not only had a few very good friends from high school living there, we liked fishing on the beaches and bays and we actually contemplated moving there for several years in the early 80's.
MOG and I had been friends since sixth grade, had been in band together, lived down the street from one another, and shared many of the same friends. We had many adventures over the years, both on and off the job. MOG and I both attended the police academy together in our youth, and worked at the same agency for quite a while. In addition, we stayed good friends.
And beach trips and Corpus trips were a big part of our lives in late high school and those early 20's. We had a group of stalwart friends living all over the state who were ready to pick up and meet in Corpus for a weekend. There was a family in this group of friends whose sister owned an "extra" condo in Gregory, right near Corpus, for family to stay in when they came to town. We often got to stay there (really, as much as we wanted to for several years), because Jane and her brother John were so gracious with her extra condo.
We would often go fishing during the day. One day, a bunch of the fellas went on a party boat, and I had a plan that evening to go see a friend from Houston's band that was playing at the Dr. Livingston's Club off South Padre Island Drive. So I opted to head down to the Padre Island National Seashore in MOG's 4wd Bronco and do some serious bird chasing (following the seagulls and birds feeding on shrimp, often fish aren't far behind) and surf fishing.
But when I was out there I met this family who had a trailer that they had converted into a very cool beach trailer for their beach camping. It was a long cargo trailer and had huge tires, the better to traverse sand. It had steel poles in the corners and a frame for a tarpelin that created some shade on the surface of the trailer. The tarpelin was about 5 feet above the floor of the trailer, creating a nice space for sitting.
There was roll down mosquito netting on the sides of the tarpelin. There were also roll out flys and sides with ropes and some poles for creating a windbreak or sunbreak once stopped. Creating shade at the beach is difficult with most structures, but by parking this trailer in the proper position and having the flys staked out, you could get a good deal of shade.
In the back of the trailer was a generator and some poles with lights on them that could be slipped into the frame that held the tarpelin for some elevated outdoor lighting. There was plenty of room for bicycles or a motorcycle, a grill, a large ice chest or two, firewood, shovels and other sorts of tools. On the back of the trailer were some PCV tubes for holding rods and reels. They had a big old water tank as well, with an outside hose hookup, and the gravity generated pretty good water pressure.
There was a porta potti setup inside the trailer with a wraparound wall and door, not unlike a crude airplane bathroom or sailboat head. Actually, it looked like the head (or toilet) compartment one might see in a 25' or 30' sailboat.
Because it was a converted utility trailer with big tires, a 4wd could pull it through some of the sand found in remote parts of the beach. The family had built the trailer themselves, trying to keep it lightweight yet providing a more stable place to camp than a tent. They could lay out cots and sleeping bags in the covered area of the trailer with the mosquito netting down and sleep far more comfortably than in a tent.
I abhor tent camping at the beach. In short order, no matter how much care is used, sand is everywhere, and althought the same problem occurs with a trailer or a camper or a tent, it's far more aggravated in a tent because at least in a camper or other sealable place you can keep the seabreeze (containing much microsand) out of the environment.
But these big types of campers and trailers are often too heavy to tow on the beach.
So what I'd like to have is a happy medium between both. A small trailer like the family I saw had decades ago on the beach, with a shaded area to sleep and lounge, a small restroom, a water tank and generator and plenty of room for other stuff.
I'd like to have something with some lightweight walls, with four folding bunks, comprising a micro sleeping area, almost like a pod. The restroom would be located here, and perhaps a shower. This area would have an "air conditioner" on top, running from batteries and a generator.
Behind this sleeping area to the rear of the trailer would be the storage area. A water tank, generator, bikes, gasoline, shovels and tools, various gear, grills, ice chests and anything else.
In front of the sleeping area would be a screened in with a tarpelin roof and steel framed sitting area, almost like a porch. This area could also be slept in, and with the high tech portable outdoor air conditioners, might be able to be made quite comfortable, particularly if you have small kids or old folks you want to keep kinda cool at the beach.
On top of the trailer would be racks for kayaks and surfboards, some steel framed cargo racks (similar to those found on land crusiers and the like) for general cargo and perhaps rod racks or tubes. You could even mount several of the cartop cargo carriers that are weather proof for carrying clothing and non-perishable food and the like.
The frame that holds the tarpelin roof and that extends the length of the trailer has mounts for lights. Area lighting as well as long distance spot lights, both on short poles. mount onto the frame to cast light out onto the beach and water. The poles with these lights come down and stow in the rear for easy transport.
Many folks I know that take generators to the beach have large tires installed on them or carriers made for them with large tires so they can be wheeled a short distance from camp for noise reduction. Be sure to have a large chain on the generator at all times to prevent a theft.
I know several folks who have small beach trailers like the Shark Fishing trailer shown above, althought theirs are not nearly as sharp or as cool as that one. I really like the one shown above.
You could make quite a shelter trailer by just adding a frame around the trailer and putting some sort of tarpelin material as a roof. With crossbars, you could still have your kayak rack and/or a gear rack on top of the tarpelin roof. With some mosquito netting sides, and some kind of awning mounted to one or both sides of a trailer roof frame, you could have quite a shady shelter and fishing camp.