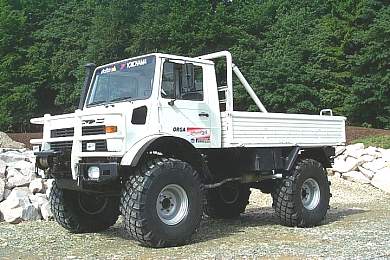 THE MERCEDES BENZ UNI-MOG is pictured above from
http://img.alibaba.com/photo/11845813/Mecedes_Benz_Unimog_U1300l_Custom_Automobile.jpg
I like to spend time at the beach, and over my life have spent an enormous amount of time fishing at various Texas beaches. One beach that has always had good fishing is the Padre Island National Seashore (PINS) just south of Corpus. The beach has "deep guts" in between the sand bars, meaning the likelihood of larger fish cruising those guts is increased.
But you've got to have a pretty good 4WD or be a damn good 2WD driver (and have shovels and boards and tow straps and the like) to make it WAY down the PINS seashore to where the great fishing spots are. The sand is deep and ever changing and you need something that can power through some of the difficult spots. Having two such vehicles is even a better idea, in case one or both gets stuck there is someone around to winch you out.
Over the years, I've seen lots of trucks and SUV's modified for serious beach fishing. Some of my friends bought UNI-MOGs back in the 1980's and 1990's when they were coming in strong as affordable surplus euro military vehicles. The coolest ones I saw had ambulance type compartments on the back, which could be converted to small sleeping quarters.
But I saw a vehicle on the beach being driven by a couple of college students that was larger than a UNI-MOG or a Hummer and would be a much better platform to build a beach surf fishing/camping vehicle on. It was wider and longer than either of the above-mentioned vehicles, but it wasn't the truck Steward and Stevenson makes in Sealy. I'll have to do some surfing and see what it was, but the back compartment was huge and it looked like it had some type of mounts for fixing up a soft top on the rear compartment, which was huge.
It was far bigger than a traditional pickup truck bed, and with some sort of plastic or fiberglass shell over the rear of that thing you could have a heck of a four wheel drive vehicle that could tackle the toughest beach conditions on the rarely traversed parts of Mustang, Padre, Matagorda and other barrier islands.
It would be big enough for a small kitchen and a portable head and several bunks, with room to spare for storage and just in general floor room. It had huge tires and was definitely 4 wheel drive. I've got to find out where I can get a surplus one of these and transform it into a family beach camping vehicle, since trailers (even lightweight pop-up trailers) and RV's can't make the rigorous journey into deep sand like a heavy duty vehicle like that can.
We owned a Jeep Wrangler for many years and Mrs. El Fisho and I did lots of roaming on Matagorda Island. It was nice to have a powerful 4WD and the gear to not have to worry about getting stuck in the sand.
The nice thing about having a serious beach vehicle that can traverse the sand is that you can get to really isolated spots where there are lots of shells and driftwood and where not a lot of fishing goes on. And where there is no one nearby messing with your relaxation.