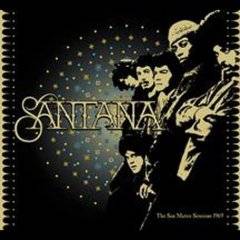 I've always been a fan of Santana. From the first time I heard him on the radio as a single digit aged child, there was something about his music that captivated and really moved me. There is a lot of soul in the guitar playing of Carlos Santana as well as the soul in his bandmates.
I was already a rock and roll junkie at a single digit age, and when Santana came onto the scene about the time of Woodstock, there was lots of radio play. Iwas about to start taking drum lessons, and already had sticks and a practice pad and was doing the basic beginning exercises. So the percussion heavy music of Santana was of big interest to me.
I remember buying the first album. My mom didn't mind it so much. But soon the second album Abraxas came out, my mom wasn't crazy about the lyrics to Black Magic Woman on Santana's second album, but let me buy it nonetheless. I had gotten my first drum kit by this time, and was working hard to emulate Michael Shrieve on the drums, particularly on Soul Sacrifice and the many rock and latin rhythms contained in these albums. It was far easier at that stage of my abilities to comp with Ringo and Charlie Watts and other groove drummers.
The Woodstock performance of Santana is alone enough reason to buy the DVD. As a drummer, watching Shrieve's solo on Soul Sacrifice is at once motiviating as it is intimidating. Dang, he and the rest of the band were on FI-YA at that gig. What a gig to have on video from your early career. Just tell the grandkids and great-grandkids "Don't be thinking your grampa was some kind of old man always. I'm a cool dude." and them show them that video. They'll stfu, Carlos, and just sit in admiration of your artistry. No doubt, they'll adore you as you will them. But what an incredible legacy for them to have.
So here, in sort of chronological order, are the CD's I'm aware of from the early career of Santana. Three of these were official releases and the others have been available on the internet for some years from reputable cd companies. I might have found one or two of them on ebay, but I got them 10 or so years ago. There might even be more out now, as I bought the Legacy edition of Santana III back in 2005 and I have not looked much since then.
But if you're a Santana fan, or like me an early Santana fan, or perhaps you're discovering Santana and checking out his early stuff, then this is for you if you want to expand your ipod/cd library/etc.
LIVE AT THE FILLMORE '68 (COLUMBIA)
This early group backing Santana delivers a great performance, recorded December of 1968. The band is composed of Carlos, Greg Rolie on Keys, David Brown on bass, Bob "Doc" Livingston on drums and Marcus Malone on congos, a smaller version of the Santana band that's about to overwhelm America. They nonetheless rock, and it's a good CD that captures a lively performance.
SANTANA: THE SAN MATEO SESSIONS 1969
The double CD recording I have lists no label for these discs, but I don't think they are bootlegs. They list people's names and music publication firms as do legit albums. In any event, it's from 1969 from the same studio where the first Santana album was recorded. The insert says it is rumored to be the demo tapes that landed them the deal with their label. It rocks. They do more jamming on these two discs than they do on their commercial first release. If you are a fan of early Santana you must get this disc.
If I'm not mistaken, Neil Schon guests for a tune or two on this disc, and possibly other albums or gigs. Schon and Rollie later formed Journey. At some point in the 80's, there was a great band called HSAS, meaning Sammy Hagar, Neil Schon, Kenny Aaronson and Michael Shrieve.
SANTANA: FIRST ALBUM (1969) This 30th anny version on Columbia
Get the 30th Anniversary version with extra tunes, including 3 bonus Woodstock tracks, including Soul Sacrifice. This album captivated me with it's soul and feeling and just plain incredible playing from the first time I heard it, and it still does today. This is the version of Santana bands that I became a big fan of. The members had changed since 1968, and everyone except for Brown on bass and Rolie on organ were gone.
In their place was what I consider the "classic" lineup. Michael Shrieve on drums, Mike Carabello on congos and percussion and the INCREDIBLE Jose Chepito Areas on timbales, congos and percussion. The increased energy level is just amazing. They are young and hon-gray and jonesing to play. And their playing and the soul of their playing merging latin music and rock music is not only intense but just plain rocking.
http://en.wikipedia.org/wiki/Santana_(1969_album
)
ABRAXAS (1970)
The second commercial release from Santana, it features the same personnel as the first album, and rocks just as hard. My personal favorite tunes are And I hope you're feeling better and Incident at Neshabur, although Black Magic Woman and Oye Como Vay were solid commercial hits and quite good as well.
SANTANA III (LEGACY EDITION RE-RELEASE 2005 Original Release Date 1971)
This is the last album with the original Woodstock lineup. It's a primal album, a great album, and the Legacy re-release has two discs instead of the original's one. Some extra live and previously unreleased tunes and tracks are on this re-release, and I actually like the extra disc better than the original.
Again, the band has played together for several years at this point. After this album, some of the members are soon to all go in vastly different directions and for a time, a bunch of other excellent musicians do some albums with Santana, until Santana begins a project with John McLaughlin. But's thats another post and an excellent album as well.
I've taken many a roadtrip over the past years where I listened to the first three commercial releases of Santana in sequence, but start that trilogy off with the double cd San Mateo sessions. Heading to West or deep East Texas from Houston, it's easy to do.
It's quite a musical experience, and if you've ever got long road trip to make with a good friend who likes Santana or just by yourself, there's a certain freedom that comes with listening to what I call the Trilogy of the original band. For shorter roadtrips, I listen to the first two commercial recordings.