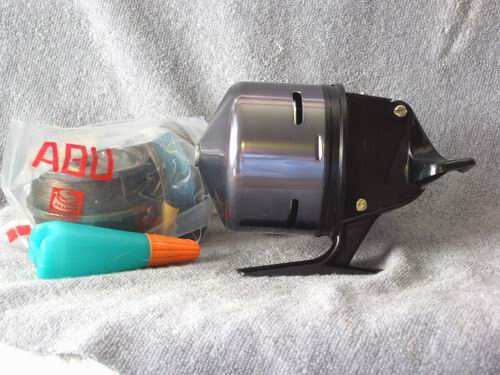 I'm always looking for primo Garcia Abu-Matic 290 fishing reels. I'm just saying.
These reels were made in the 1970's by Garcia, which back then was one of the major manufacturers of fishing and hunting gear. Their shotguns were ornate and very well made, fetching then what would still be a high price nowadays. Three of their fishing reels are considered classics and at the time, although very reasonably priced for the quality of the product, we considered the penultimate in fishing reels.
The Mitchell 300 spinning reel, the Ambassador 5000 baitcasting reel and the above shown Abu-matic. I still use each of the original three reels I got as a kid and teen today, more than 30 years later.
The red Ambassador 5000 was considered classic, but advances in baitcasting reel technology, most noteably by Shimano with their ever evolving Curado series have rendered the venerable 5000 a victim of technology. At less than half the weight and better braking systems that are a product of far better technology and materials, it's hard for the Ambassador 5000 to compete some forty plus years after it's introduction.
Don't get me wrong. I'm not throwing away my 5000 anytime soon. It looks near new still, with one tiny nick that cuts through the red enamel paint into bare metal on the casing of the reel, a haphazard result of a poorly stowed rod (by me) in my our ski boat. It slammed against some piece of trim in the rod box and bam, tiny but noticeable nick.
The 5000 is the type of reel that will still be working with Fishing Musician jr. is my age. It's the kind of thing you want to hand down to your kid, the thing he'll hopefully think is cool and hang on to it as well.
The thing is, it got nicked more than thirty years ago, and despite heaving fishing and being kept in garages for much of it's lifespan, it has not rusted or tarnished the metal. At all. The tiny gouge into the side case of the reel is as bright and shiny as the day it happened. And although I've wiped the reel down periodically and after rinsing with fresh water after a fishing trip, I've never paid special attention to making sure that nick area was totally dry like I should have when it was wet.
I guess that is because it always looked the same and never got tarnished. Which all means that those little reels made in Sweden at the Abu reel making factory from the 1950's up until probably the late 1970's, were made of superior grade metal. Lack of impurities. I don't know what kind of stell the casing of these reels is made of because it is high quality metal.
But as I say, the Ambassador 5000 is iconic. I'm aware I've used this phrase a lot recently, and I apologize for that. But if the shoe fits, wear it. It's one of a kind and amongst my breed of my age, it's a legend.
The Mitchell 300 is likewise iconic. It is the blueprint for hundreds if not thousands of reels made since it hit the scene in the 1950's at well. As I recall, it was made in france, and like the Ambassador 5000, it is a classic that still sees daily use in many fish hunting arsenals. I have mine, again purchased when I was in my early teens with yard mowing money, more or less permanantly mounted to a Lew's Speed Stick from the 1970's as well. A serious bass worm rod for a serious fishing reel.
But to me, the Abu-matic 290 spincasting reel is still at the top of the heap, after more than 35 years. At the time I got mine, it was certainly the pinnacle of durability, solid design and absolute functionality. It will cast far further than any other spincasting reel, and it's drag is about as close as you can get to the Ambassador 5000.
No matter how much bait casting I do, I still get backlashes. I've been baitcasting for over forty years, since I was a small child, and although I got the hang of it, my propensity to change lures without *correctly* changing the settings ends up with a lot of back lashes. I have had far less back lash with the Curado than I ever had with the Ambassador 5000.
But with the Abu-matic 290, backlashes don't happen. The few malfunctions I have ever had on a 290 have been minor and usually were some fault of mine. The 290 sports a large capacity of 20 lb test line, a hardy drag and is a great bay reel for specks and reds as it is a freshwater reel for bass and larger gamefish.
The Abu-matic 290 was ultimately discontinued in the late 70's or early 80's, but scores remain on the used market, most in solid condition. It's just a well made reel with well made components. In 2000 or 2001, Abu reintroduced a remodeled Abu-matic line, including a heavy duty reel. Bought one, hated it, sold it on ebay 6 months later.
So if you've got an Abu-matic 290, grey in color like the one above, give me a holler.