I carry every day. I have carried personally and professionally for many years now. It's amazing how a slightly different shape or thickness of leather can vastly effect how a holster can hold a gun, and as important, how the holster itself "wears" on the users body.
One recent holster I've been very impressed with was a Mitch Rosen open top belt holster for the Kimber Solo and branded by Kimber. It's an excellent holster, and perhaps one of the more comfortable and actually concealable belt holsters out there. I'd like to get a slightly larger version of the same holster for the glock, the 1911 and perhaps a few other pistols I have. It puts the gun at just the right spot on the beltline, which is key to prevent floppiness without having to cinch your belt down tighter than you might normally like, and that's assuming a "suitable for use as a gunbelt" belt is being used.
Being a fellow who often brings multiple handguns afield with him, I like the idea of a so-called universal holster. Yeah yeah yeah, I know that many of the cordura holster that are more or less one size fits all in certain catagories can accomplish this purpose, and often times the cordura/nu but one choice I've been using for the past several years is the Tagua "inside the waist" holster in both large and small.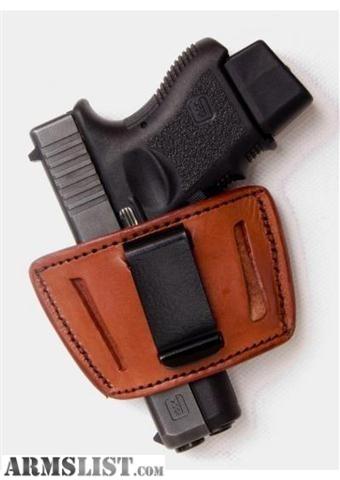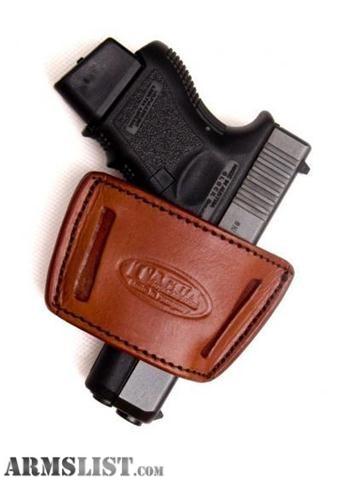 IMAGES FROM ARMSLIST.COM
The pictures show the large model, which is for Glocks, FN's, Springfield Armory, 1911's, Browning Hi Power, Beretta 92 and so on, Kel-Tec PMR-30, Ruger Mark pistols, Luger P08 and modern Sigs, HK's and other big frame handguns. The smaller size fits such guns as the HK P7, Browning 1911-22, the Kel Tec P3AT, Kimber Solo, Ruger SR-22, a Walther PPK, the Colt 1903, an Ortgies .32, and the small size also better fits (imho) the 1911 and Browning Hi-Power.
The small size carries the 1911 of all barrel lengths and the BHP and keeps the hammer (on the old school 1911's with regular non-commander hammers and not as much of a beavertail grip safety as most of the newer 1911's use and that the Browning Hi Power sports. Sometimes, I have found, when one's middle age gut gets poked in the side by some steel object like a cocked and locked hammer protruding into said gut, it hoits! So this holster does a really good job of keeping the hammer part of the gun really away from the body, while at the same time tugging the rear grip of 1911 toward the body for maximum concealment ability.
It's truly not only a multiple gun fit holster, but a multiple use holster. You can wear it as an IWB holster, using the sturdy clip, or you can thread the belt through the clipless side and wear it as a "Yaqui" belt slide. This is my most frequent use, although it's one of those nice "in a pinch" holsters to have in the glovebox or briefcase to throw a variety of handguns into an IWB holster when perhaps you had not previously anticipated wanting a handgun on your person, but just in your vicinity.
But wait, as Ron Popeil used to often say in his Pocket Fisherman infomercials, there's more! Since this holster has belt loops on BOTH sides, you can thread a belt through the clip side of the holster and with the clip side out and place the holster between the belt and the pants of the wearer, for a bit more concealment on larger guns. In all cases, this holster is worn with the clip facing away from the users body.
Oh, and although I have not used it as such, it's ambidextrious as well. How about that for a bargain? But wait, there's more...the clip is removeable as well.
For switching back and forth between different pistols, the belt slides are great. Very handy at the shooting range. They do a pretty good job of pulling the butt of the weapon close to the body for good concealment yet at the same time keeping the hammer/sight areas (where applicable) away from the middle aged gut. It's not pleasant getting poked in the side with the traditional hammer of say a 1911 or a Browning Hi Power. Not pleasant at all.
I have not tried either of these belt slides with a revolver of any sort. Instead, I find that the Galco Combat Master belt holster for the Colt Cobra/Detective Special will carry basically any snub nose that is Detective Special size or smaller, including all S&W J frames. I think the Ruger SP101 will also fit in this holster. Vice versa would not be true, as the Detective Special and it's one extra round over the J frame means a Detective Special won't fit generally into a J frame holster.
A recent ebay purchase was a very cheaply priced SIMPLY RUGGED holster for a 3" barreled L frame Smith and Wesson revolver. Since I have one of these, but with a 3.125 inch barrel, I took a chance. It fits like a glove, a perfect fit for the barrel and fiber optic front sight of my L frame, and it also takes a K frame and a snubbie Python securely. It is pancake holster that can be worn in two ways on the strong side as well as in a cross draw fashion, and with the included snap belt loop attachments, it's an IWB holster.
It's well made and the leather smells better than any I've smelled on a holster or belt in a long time. Stitching is solid and the design is highly well executed. The removeable IWB snap loops and the belt slots being sized at 1.5" are great little features that mean a lot.
Ironicially, I've got a list of four holsters I was gonna order from Simply Rugged after reading about his stuff for so long on the Gunblast site, and fortunately for me, this holster was one of what I was gonna order. I'm still gonna get one for a Government model 1911, for a 3" 1911 and for the Kel-Tec PMR-30, a very cool holster that Simply Rugged calls Field and Stream, featuring an integral extra mag holder. They are priced reasonably from their maker but I was glad to get a true ebay deal on this holster.
Finally, I got a Fobus paddle holster for the Walther PP/PPK/PPK-S series that doesn't fit a PPK at all. At all. It will kinda sorta hold it in there but doesn't "snap" in like my other guns do in Fobus holsters and feels as if it could fall out if I took a tumble. I worked with the adjustment screw and the gun fitting it for over an hour with no better result than I had initially achieved within five minutes of getting it.
It's obviously made to accomodate the shorter PPK and PPK/S as well as the longer PP. That's not a big deal to me, if it would work as intended. I've checked the model number on the holster and it's the right one, but it ain't right, if you know what I mean.
I'm a big fan of Fobus holsters for both revolvers and semi-autos. All of the ones I've bought up to this one have worked perfectly out of the box with the intended firearm. But this one is going back on ebay for a sale soon.
I continue to use Bianchi holsters, mostly what would be called "vintage", on a daily basis. I enjoy their "hip hugger" paddle holsters with the suede covered paddles and thumb breaks, their upside down revolver holsters and normal "vertical" shoulder holsters, the Model 6 IWB suede out holster for small snubnose revolvers and their belt holster Model 5 in the many forms it has come in.
The hip hugger is one of my favorites, and as I've mentioned before, I need two of them: One for a 4" N frame and one for a 4" K frame or .38/.357 Medium frame Revolver (it will say .38/.357 Med Fr Rev). If they made one for a Ruger Blackhawk with a just under 5" barrel that would be great too.