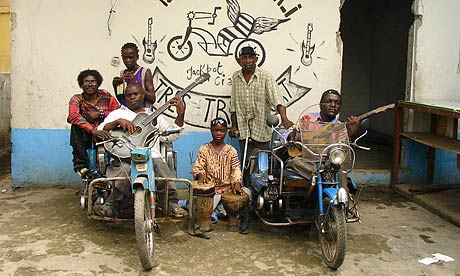 No, I'm not in a new band but I am going to see about building a new musical instrument this weekend. I'm trying to find some good pictures of this instrument, a one string African lute from the Congo called the SATONGE.
I like underdogs. I have always liked the underdog and generally, if they are in the moral right, have rooted for the underdog. As a drummer who has played local and regional music with local bands, I've never had any real mainstream success in playing music. I never worked as a "working" musician, primarily because in Houston and Austin, where I've done most of my music making, unless you had that rare and hard to get union membership, you were not making enough money to live on from the clubs and bars.
Playing music generally covered the expenses generated for my gear, but it never paid enough money to buy drums or cymbals, just the accessories like sticks, drumheads and such. Add to that the gas to get to and from gigs and rehearsals, and in towns like Houston the law of diminishing returns begins to appear in terms of musical money.
So when I see a group of disabled and non-disabled folks from the Congo, from a great band called STAFF BENDA BILILI, I get excited for them. Recently in Paris for the premier of a movie about their band, and doing tours in various parts of the world, the formerly homseless members of this band are underdogs I can root for.
Go here for their story:
http://www.latimes.com/entertainment/news/music/la-ca-congolese-band-20101017,0,369161.story
.
I've always been a fan of African guitar rock, starting with Fela Kuti in my youth. A band director in high school would put on various music like Fela that we weren't hearing on our top 40 AOR radio stations, and rarely on the Pacifica channel KPFT or on the progressive radio station at Rice University.
Here's a link to a video showing the fellow from Staff Benda Bilili playing the Satonge. Reading various reports and articles from around the web, it's described as an instrument that can make a wide variety of sounds. Here's a video clip of the Satonge in action.
http://videos.wittysparks.com/id/929676233
I'll write some more about this African group merging not only physical mobility but various genres of international music after I do some listening today about them, and some more searching about the Satonge.
Democratic Republic of Congo, Kinshasa, musicians almost spastic living on the streets and dreaming of success in Europe ... this dream will become reality thanks to the meeting with two directors from the Congo for a documentary on urban music: Renaud Barret and Florent de la Tullaye are passionate Bilili Staff Benda, this extraordinary group led by Papa Ricky, following their adventures and fund the creation of an album.

The film follows all the rehearsals, the final constitution of the group, studio recordings and successful European tour. Everything is music and dance against a backdrop of extreme poverty, all wrapped in a disarming optimism ...It meets kids who think that Europe is a country and that all their problems stem from Adam and Eve ... these "shégués" (street children) accompany and help the musicians in everyday life: these men are their models because they embody the courage and resourcefulness.
The group name "benda Bilili" means "beyond the appearances" in Lingala. Beyond the disability, beyond the difficulties this proves we can do great things ...

They are touching these musical geniuses in their gear wheel halfway between cycling and wheelchair! In a country that does not give gifts, be invalid could mean an end, but these men are fighting to keep their dignity and above all to support their families. They are incredible wisdom and above all their enthusiasm is contagious. The slightest little thing is a pretext for an impromptu concert and soon a crowd of onlookers began to dance around the musicians.
I was charmed by the young Roger, a young street who lives off his satonge, an instrument made from a tin, a piece of wood and a wire rope ... It's crazy sound that comes out of this little thing! These are filmmakers who met by chance and presented Father Ricky. It is now part of the "Staff" and it became the "boss" of his village with his family out of poverty. His story is very touching and physical transformation between the beginning and end of the documentary is awesome ...
All those smiles and the amazing music makes me want to rush to the CD Very strong, released in 2009 and available at all good record stores ...
Small problem though: the technique I was very embarrassed when the first images: everything is turned into light and camera is understandable, but the overall picture is pretty bad. Often blurred, light set incorrectly. I do not like films too smooth, but there is a bit too amateur in execution and is an element that could serve the film.
5 good reasons to go see Benda Bilili :
-to take a good lesson in humility
-to tap into his chair to the rhythm of percussion leading
-to discover amazing instruments
-for laughter Papa Ricky
-to do a good deed - the benefits of film are donated largely to the "actors" (info to clarify, I did not find many details about it)
If ever a band deserved to have songs or a CD bought from them, these hard working guys do.