It's not a switchblade, and it's certainly not the fastest opening knife that I have. Arguably, even a regular old 30+ year old Buck Hunter is a faster opening knife than the Boker-matic, and although I've seen it done by skilled knifesmen, I can't really open a Buck Hunter using one hand without an extreme degree of difficultly and lack of safety (so I wouldn't ever do it, though I've seen it done).
My current favorite daily use knives are the Kershaw Ken Onion Blur, as well as another old knife, the Spyderco Delica (the 1st generation model with the molded in plastic pocket clip), and they both open much faster with one hand than the Boker-matic does. These knives are small and light with good blades suitable for everyday use, particularly dangerous tasks like package and mail opening and they both go for about $50 or $60.
image from
http://ak.buy.com/PI/0/250/226174910.jpg
image from lionshare
After a google, I was surprised to see that they are apparently being currently made by Boker's import brand Boker Plus and that they are being sold for a mere pittance. Even your local mostly Chinese product outlet has these for right at $22.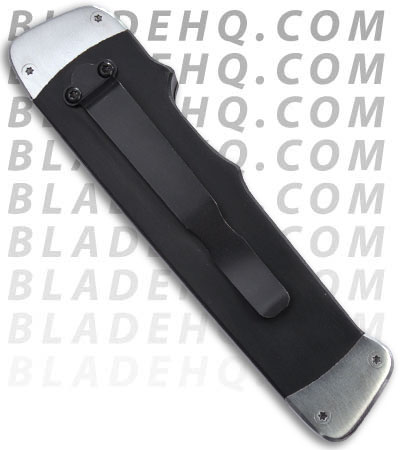 image from
http://www.bladehq.com/images/knives/boker/boker_boker-matic_closed.jpg
This version, from Blade HQ and going for just under $27, has a pocket clip, which the others currently for sale may or may not have. Here's some specs on the Bokermatic and a MUCH better description of how the knife operates than the one I give below, but this is from the above-linked Blade HQ page:
Back under the Boker Plus banner, the legal-to own Boker-Matic is now available with a handy pocket clip. The handle is made of black fiberglass reinforced nylon, and the 4416 stainless steel blade can be retracted into the cavity with one hand via the auto-retract mechanism. To open the knife: Slide scale sideways and push button up. To release auto-retract blade, slide scale and blade automatically retracts into handle. This is a very unique knife mechanism and sure to please!
Specifications:
Blade: 3"
Closed Length: 4.25"
Overall: 7.4"
Weight: 5 oz.
I kinda liken the Boker-matic to the Heckler Koch P7 line of pistols and their unique grip cocking device or the unique design of the Springfield Armory M6 Scout rifle. The Boker-matic opens and closes differently than any other pocket knife I'm aware of. Opening the knife is done manually but retraction is automatic. So it's not a switchblade, technically speaking by most definitions (check your state laws!) since it doesn't open automatically.
It is a handy knife for one handed opening and closing, something that really only Spyderco offered back 25 years ago or so when I got this knife. It would be a few years later when blade opening studs and blade tang extensions and assisted opening knives became the order of the day, facilitating one handed opening and usually one handed closing.
With the Boker-matic, holding the knife in the closed position with the opening facing away from you and the opening/button facing up as shown in the pictures, the top panel of the Boker-matic handle is slid to the side and then with your thumb the lever attached to the bottom of the blade is pushed forward, sliding the blade out the front of the knife. To secure the blade in the open position, the grip panel is simply slid back into the normal position.
Again, retraction IS automatic, in that there is some kind of spring or tension device inside of the knife that again, once the handle is slid to the side position, the blade slams back into the handle with a firm resolute. The handle panel is then slid back to the normal position and the blade is locked in the closed position with the handle in the normal position and can't accidently open in a pocket.
Mine is an old school version of the Boker-matic, and it's solidly constructed. It holds a nice edge, and it's more or less a good gentlemans pocket knife. It's not a survival knife, or even a really handy fishing or hunting knife, but it is well built and could probably function in either capability.
One thing that would make it a handy knife for fishing would be a lanyard attachment point, and with the new version a place to attach a lanyard could be easily fit into the top portion of the pocket clip between the two screws holding the pocket clip to the knife. I think you could even remove the clip and attach some wire leader between the two screws and crimp the leader to a very small 1/2" or so sized loop to use as a lanyard attachment point.
When I'm in, on or around the water fishing, I like all my stuff to have a lanyard on it. You'd be amazed at how fast heavy objects sink to unfindable places in the water when fishing and you drop a knife/gun/pliers/etc.
I'd like to find a Boker-matic in a store so I could look at it and compare the new version of this knife and it's build quality with my old version. I can't see any way Boker can be charging roughly half of what I paid for my Boker-matic years ago and still have a knife of the build quality of my Boker-matic.
I'm gonna try to do some research on where mine was made vs. where the current version was made. I thought they had stopped making them for awhile, but maybe I was wrong or they reintroduced them.
I've got several inexpensive knives from the "Boker Plus" line, and they range from "ok" to "good" but not great or even very good. They don't compare at all to my older Boker knives in terms of blade quality or fit, finish and construction. Guess where they are made?
I've also been disappointed with a Cold Steel belt knife purchase from a couple of years ago and it's Chinese-y poor hard plastic handle and sort of letter-opener-like "blade", versus the 30 year old folding 4" Tanto Cold Steel that I have that features the Pachmayr-like rubber grip material. It's the best knife grip I've ever had.
I know I'm totally OCD when it comes to Pachmayr grips and how I'd like to have entire rifle stocks built out of them and their fantastic feeling and shock absorbing selves. Same with knives. I've been scouting ebay and some other places for a Cold Steel belt knife from the 80's and whenever they were using the super rubber feeling Pachmayr like soft rubber for their knife grip panels. My Cold Steel folding tanto not only has a lanyard hole but the grip panels are checkered, as with a long gun grip on a decent gun. It gives a super non-slip grip and is sorta cushy and very comfortable to hold under pressure.