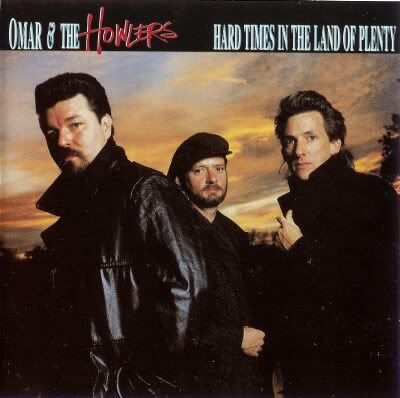 21 years ago this year, the song "Hard Times in the Land of Plenty" was being played on AOR and rock stations everywhere. Penned and performed by Austin's own Kent "Omar" Dykes, it was everywhere on the radio in 1988. I remember that I went and bought the album as soon as I heard it. Yes, although I already had many cds by that point in the late 80's, sometimes, and especially for the blues, it's nice to have that "vinyl edge" that certain bands sounds deserve.
You can read all about Omar at his own website http://www.omarandthehowlers.com/OATH-home.html. I've seen him numerous times in the past decade, both in Houston and Austin, and one thing for sure about Omar, that boy can play the guitar.
I'd recommend either of the above albums of his, if you want to check him out. Big Delta, the 2001 release, features the twin drumming powerhouse of Terry Bozzio and Barry "Frosty" Smith, along with Roscoe Beck on bass.

He's a big man, and he's one of the few guitarists who I've actually seen twist the neck of the guitar when playing a solo. You can actually see the flex of the next as he twists it. Try it sometime. I can't do it. He's a strong mo fo.
He's also a helluva decent guy. I had the opportunity some years ago at the Rhythm Room on Washington Avenue in Houston to sit down backstage (literally) and have a conversation with Omar about music and life and family. He lost his wife several years ago, what a tragedy. Left as a single parent, I feel the need to buy his stuff every time it comes out simply because it's good stuff and because he's an artist that I know is living a decent life, taking care of his family.
My friend Barry "Frosty" Smith was playing drums for Omar on that tour, and so I had the opportunity to hang with the band throughout the night. Rocking, just rocking.
But that wasn't the first time I met Omar. In the spring of 1988, I was playing in an original band that often played Fitzgerald's. Back then, Fitzgerald's was one of the homes of Texas blues in Houston, having had many a rising and falling blues star pass through it's doors over the years. The band I was playing with was hired by Sara Fitzgerald to do the opening for Omar and the Howlers.
It was a sold out house. Fitzgerald's has a very cool back stage setup, or it least it used to in the days when I was playing there. The upstairs stage is actually connected to a neighboring structure via a walkway, which provides nice dressing and "green" rooms for performers to use before, during and after shows. Most of the places I played didn't have this benefit, which really came in handy.
For example, as a Houston band member, if you do any gear moving at all, except in the rare cold times of year, you're going to be sweat city by the time you load in your gear and set it up under the stage lights. Not being in a famous band with roadies, I do my own loading in and out. If you're lucky, you have cool bandmembers and you all pitch in to load in and out together, because at places like Fitzgeralds, stairs are a bitch with heavy musical gear.
So that night, as I finished loading in and wandered into the backstage rooms to find a room to change into some dry clothes for the show, I met Omar who instantly provided me with some water and invited me into their particular green room. I met the band and had a beer with them and just really enjoyed talking to them. They caught the last part of our show and were very encouraging.
Of course, I stayed for the sold out show and it was just amazing. Omar is a power guitar player and often uses no effects to get the varied sounds out of his guitar. He often plays Fender Stratocasters and Fender tube amps, and gets an amazing variety out of those two devices just using his hands, no floor full of effects to get different sounds.
I've often felt that rock/blues trios have the ability to get "tighter" sounding than a quartet. I guess if you have three musicians and a singer, that you can be tight, but I think often that three good musicians (guitar, bass and drums) can often "lock in" to each other easier than even four musicians can. There is exceptions to every rule (Beatles, for example) but I like the think about some of my favorite artists that played in trios:
So if you get the chance to catch Omar and the Howlers, do it. Buy a cd off of his website. You'll be glad you did.