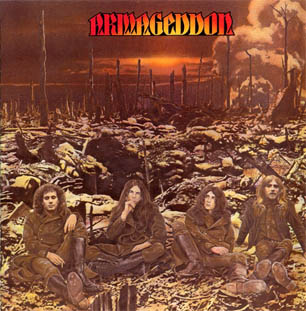 I'm talking about the 1970's one album band fronted by ex-Yardbird Keith Relf, whose untimely electrocution after the band's first album ended what was sure to be a promising career.


The ultimate Armageddon page, which was in existence wayyyyyy before wiki is found at http://www.alexgitlin.com/npp/armauk.htm. It's not an incredibly long read, but then again, it was an incredibly short-lived band.


There's some Swedish band who now goes by the same name, and no offense to them or their heavy metal fans, but I'm talking about the other Armageddon.


I clearly remember the first time I heard the band's first album, pictured above. My good friend Mog had just installed a Pioneer Supertuner and some great co-axial
6 x 9 speakers in his early 70's Duster, and we were on our way to some kind of high school Friday night party and he told me he had discovered a band that played with the intensity of Led Zeppelin but yet was different.


I'll mention that this same comparison to Led Zeppelin was made by me many years later in response to the style and tenor of Jane's Addiction 1986 at about the time of the release of their first album, Triple X (XXX). I think we were both right.


But so back in '75 or so, I had never heard of them and Mog had picked up the cassette tape at the local Evolution Tapes and Records. It rocked big time. It's still one of my favorite hard rock albums, yet even my hard rock maven friend Billy Ray isn't that big on them. Of course, it took Billy Ray about thirty years to realize that the Inner Mounting Flame album by The Mahavishnu Orchestra was an absolutely kickass album as well, so there's hope yet.


The party was a bore, and we ended up taking the long way home from the party so that we could listen to the rest of the tape. The Mog-ster was a musician himself, being a trumpet player, but he had a fine appreciation for blues based hard rock guitar music.


He was right, and years later, at one of our infrequent gatherings over the years, I gave him a copy of the above album on CD, an import I had bought from some small record store in San Francisco. He had forgotten all about them, but since I had bought the album I was able to listen to it every few years. It's one of my go to road trip cd's, keeping company with other road trip cd's like one of Santana's first three albums or the first three albums by Mahavishnu Orchestra. Strong stuff.


In any event, the Fishing Musician highly recommends this album. If you like Zep and some of the harder edged psyche0delic rock of the 70's, you're probably gonna like these guys. The guitar work by Martin Pugh is just amazing and Relf's vocals are over the top. I'm not such a big harmonica fan but I have to say Relf pulls off the harmonica riffs pretty well. Having heard the harmonica on the album, it just wouldn't sound right without it.


One of my main reasons for liking this band is the drummer, American Bobby Caldwell. I first heard of Caldwell through his excellent work with both Johnny and Edgar Winter, but his drumming on this Armageddon album is just awesome. He's working his rear off and, along with bassist Lou Cennamo, driving the hell outta that band.


Caldwell is living in Florida and a good friend of mine from high school who works for NASA sees Caldwell on occasion playing with the reunion version of Captain Beyond. Caldwell also played skins on one of my favorite songs of my tortured youth, Rock and Roll Hoochie Koo.

Wiki says:


So if you like old rock, particularly guitar oriented, blues derived hard rock and roll that is somewhat original and not formulaic, get ahold of the Armageddon album. Chances are, if you're a fan of this era and genre of music, you'll really like this album.


They're not Led Zeppelin, but there are some parallels between them. I'm a massive fan of Led Zeppelin and can't say that I think Armageddon was better than Led Zep, but they were different and they rocked just as hard in their own way.